The UN Secretary-General H.E. Mr. Antonio Guterres is paying an official visit to Mongolia from 8th to 11th of August at the invitation of the President of Mongolia H.E. Ukhnaa Khurelsukh.
Foreign Minister H.E.Ms. Batmunkh Battsetseg held an official meeting with the UN Secretary-General H.E. Mr. Antonio Guterres followed by a joint press encounter.
Below are the remarks made by UN Secretary-General H.E. Mr. Antonio Guterres.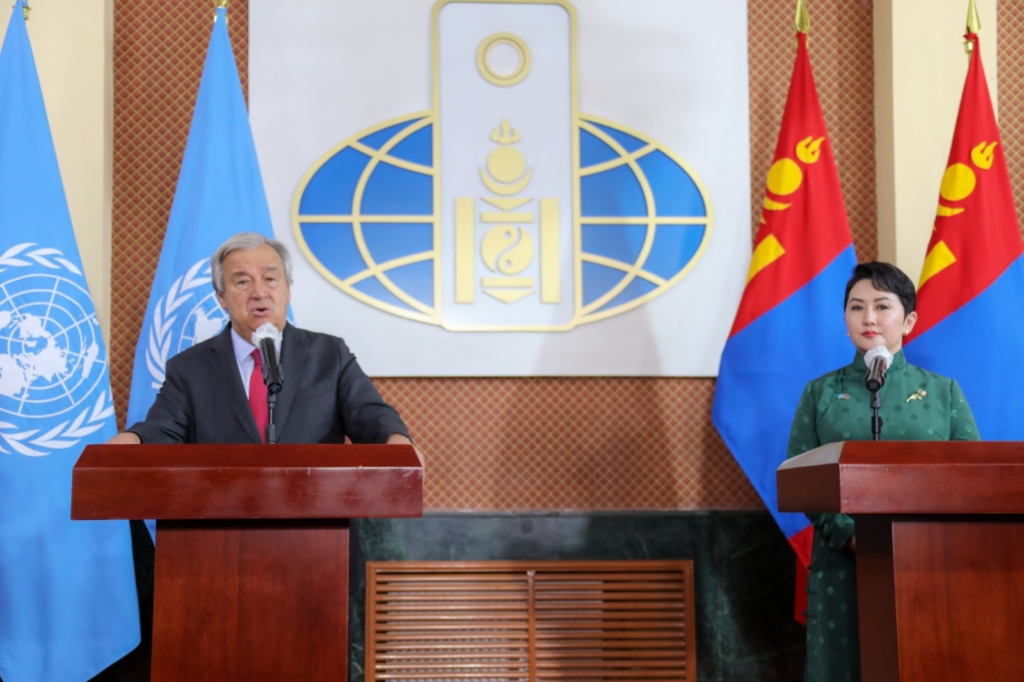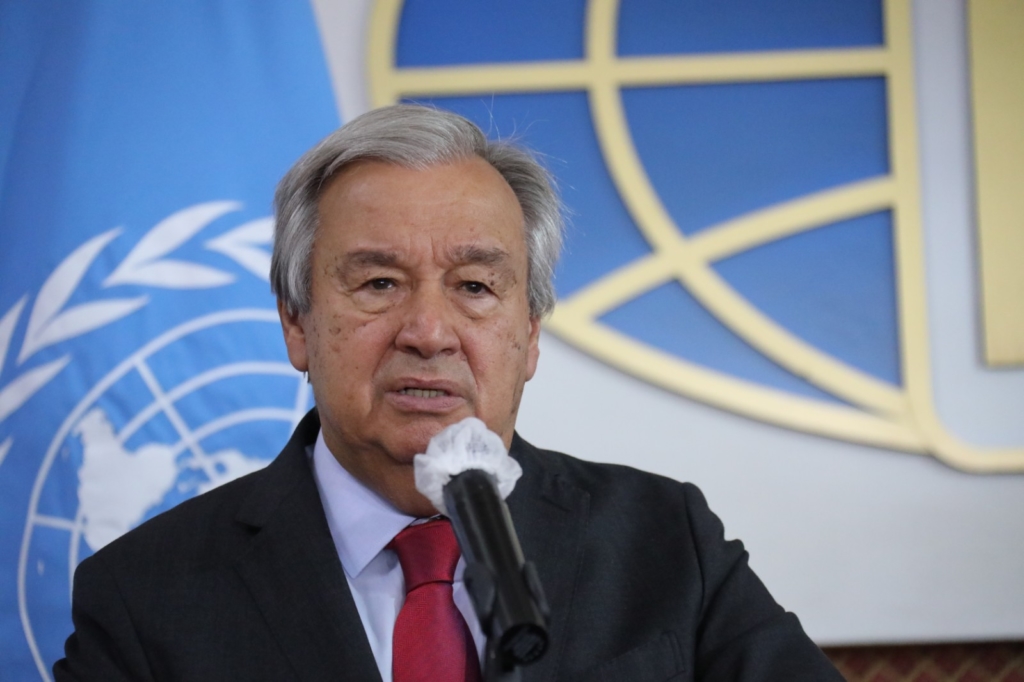 Ladies and gentlemen of the media,
I have just had a very productive meeting with Her Excellency, Mrs. Battsetseg Batmunkh, Minister for Foreign Affairs of Mongolia.
I conveyed my gratitude to her, President Khurelsukh Ukhnaa and the people of Mongolia for their warm welcome and generous hospitality.
Last year we celebrated the 60th anniversary of Mongolia's membership to the United Nations.
Over the past six decades, Mongolia has become an increasingly important contributor to the work of the Organization.
This year marks the 20th anniversary of Mongolia's participation in UN peacekeeping.
We are grateful to all Mongolian peacekeepers for their service in UN peace operations, often in the most challenging settings.
We deeply appreciate their dedication, professionalism, and commitment to promoting peace and stability to war-torn countries.
I am especially grateful for Mongolia's championship of the Women Peace and Security Agenda.
In addition to its own efforts to increase the number of women peacekeepers, Mongolia hosted, in June this year, an international conference on women in peacekeeping.
It is another demonstration of Mongolia's leadership, solidarity and commitment to achieving our joint gender equality goals.
Mongolia's support to multilateralism goes far beyond its generous contributions to UN peacekeeping.
Mongolia has shown its commitment to non-proliferation and disarmament by declaring itself a nuclear-weapon-free zone.
I hope other countries will follow Mongolia's example so we can realize a world free of nuclear weapons.
Mongolia is also a constructive player in promoting peace and security in the region, exemplified by the Ulaanbaatar Dialogue Initiative on Northeast Asia Security.
I am particularly encouraged by the inclusion of young voices in the Dialogue, which is one of the priorities I outlined in my report on Our Common Agenda.
Mongolia's multilateral contributions also extend to the field of development: and achieving the Sustainable Development Goals.
The country's leadership in representing landlocked developing countries dates back to 1994, when Mongolia established the Group of LLDCs.
More recently, the International Think Tank for landlocked developing countries was founded in Ulaanbaatar 13 years ago.
As a landlocked developing country, Mongolia is faced with development challenges in trade, transport and connectivity.
These challenges are now compounded by the COVID-19 pandemic, the war in Ukraine and, increasingly, by climate change.
Chronic drought threatens food security, and some 77 per cent of Mongolia's land is affected by desertification.
In the face of these challenges, the Government of Mongolia is working hard to address climate change and desertification, including through the One Billion Trees campaign.
Mongolia's example in addressing climate adaptation through the sustainable management of natural resources is laudable.
I see Mongolia's potential to be a renewables leader – delivering energy security as well as creating economic opportunities.
Mongolia has vast potential renewable energy resources to fuel the country – and others
Mongolia also has the potential to emerge as a major player in the renewable energy supply chain with its copper resources.
Mongolia may be landlocked, but its constructive foreign policy of dialogue and cooperation is central to building bridges and promoting sustainable development.
The country has undergone a remarkable transition in recent years.
I count on its leaders to continue to consolidate democracy and promote human rights for the lasting progress of all Mongolia's people.
The United Nations is grateful for Mongolia's contribution and the country can continue to count on our support across the full peace, human rights and sustainable development agenda.
Thank you.
Ulaanbaatar, 9 August 2022