H.E. B. Battsetseg, Minister for Foreign Affairs, held a virtual meeting with Ms. Fatima Sumar, Vice President of Compact Operations of the U.S. Millennium Challenge Corporation on April 1, 2021.
The two sides congratulated each other on the historic occasion of the entry-into-force of the Second Millennium Challenge Compact on March 31, 2021. The Second Compact, signed between the Government of Mongolia and the U.S. Millennium Challenge Corporation (MCC) on July 2018, is designed to increase water supply in Ulaanbaatar city.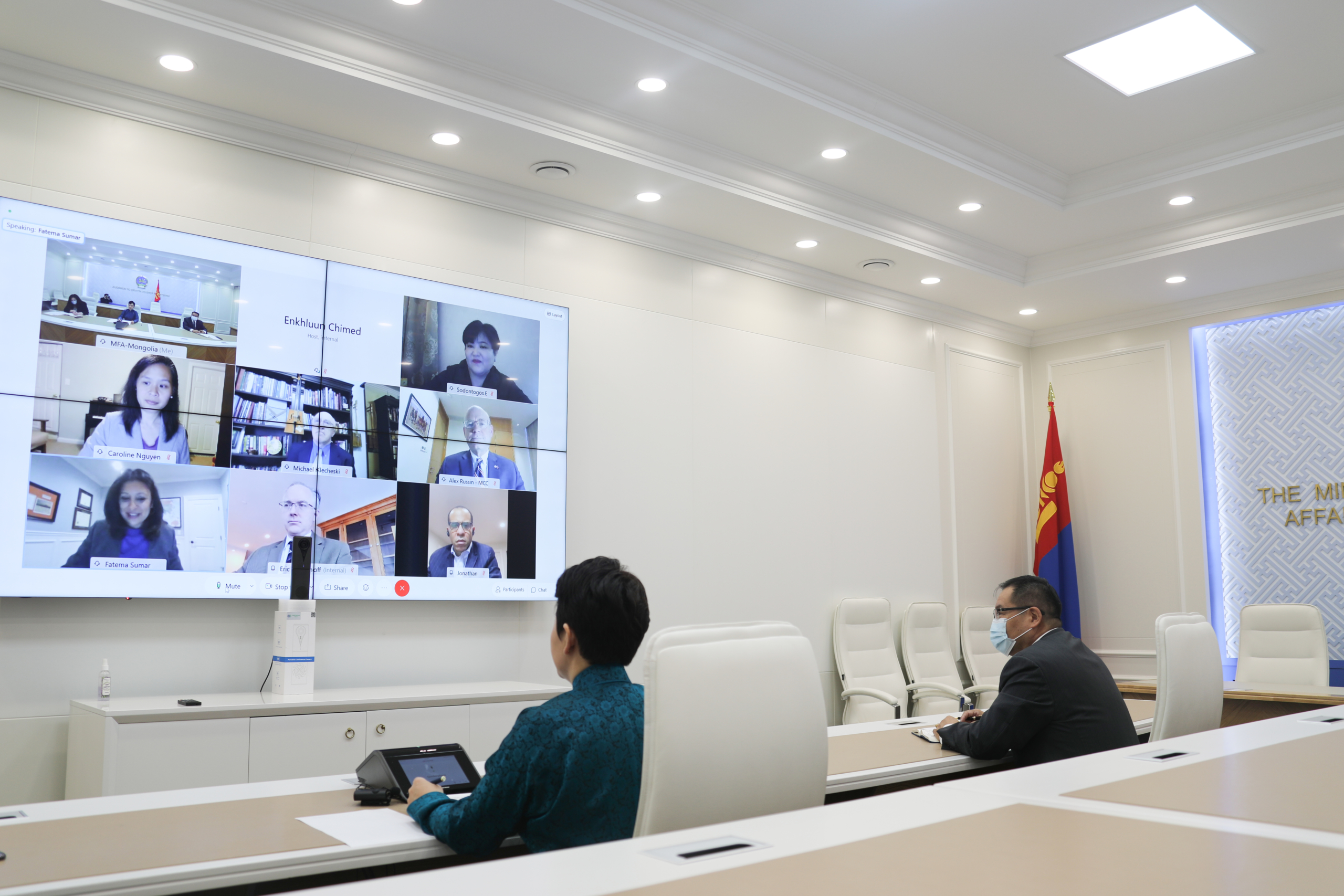 Minister B. Battsetseg highlighted that the Mongolian Government has successfully completed the requirements and the Conditions Precedent to the Compact entry-into-force, while undertaking necessary preparations for projects and activities to be implemented under the Compact. The Minister further noted that despite challenges posed by the global pandemic, the Government of Mongolia was able to continue the operations and enable the timely commencement of the Compact Program, and expressed appreciation to the U.S. Government, the MCC and all other stakeholders for their enduring cooperation.
Vice President Fatima Sumar noted that the Second Millennium Challenge Compact's entry-into-force marks an important milestone in the partnership between Mongolia and the United States, which is a direct result of the tireless efforts of all stakeholders involved, and congratulated the Government of Mongolia on the successful completion of all the required conditions. The Vice President further noted the MCC's commitment toward successful implementation of the Compact, which is significant for increasing the water supply of Ulaanbaatar city, ensuring environmental and ecological sustainability, and sustaining a long-term economic growth of Mongolia.
With the Compact's implementation a construction of major water infrastructures, such as Wastewater Recycling Plant will be commenced. As a result of this project the water system in Ulaanbaatar will be expanded to deliver up to 64 m³ or 83% more drinking water than that is of today.