The Ninth Canada-Mongolia Intergovernmental Roundtable Meeting was successfully held virtually on May 27, 2021 amid the COVID-19 pandemic. H.E. Mr. Javkhlan Bold, MP, Minister of Finance of Mongolia and the Honourable Karina Gould, Canada's Minister of International Development delivered opening remarks at the meeting.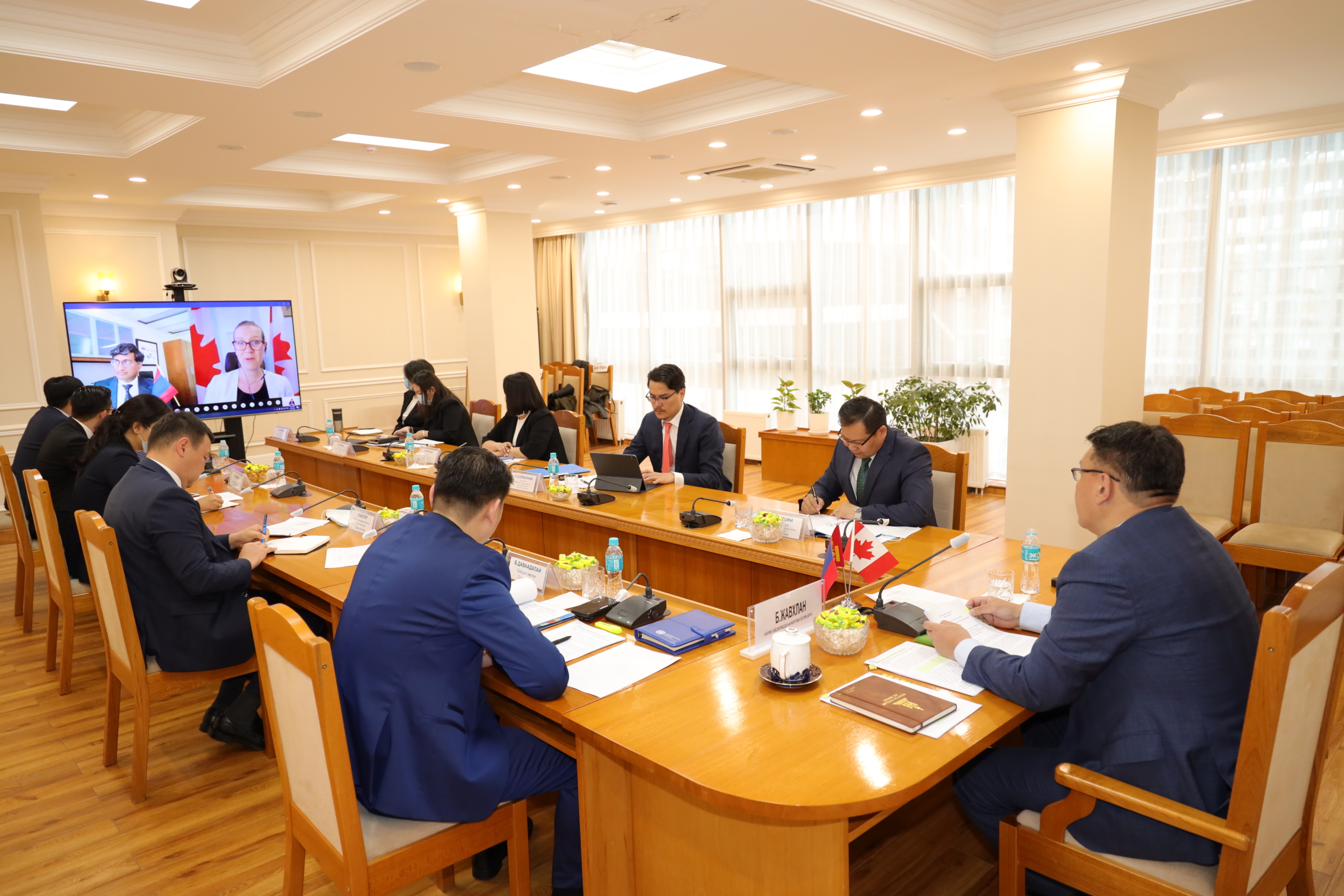 Minister B. Javkhlan and Assistant Deputy Minister Paul Thoppil, Global Affairs of Canada, co-chaired the Roundtable Meeting and exchanged views on matters pertaining to bilateral relations, trade and economic partnership as well as global and regional issues of mutual interests. The two sides expressed their shared desire to enhance political and economic relations, people-to-people ties, and to promote cooperation within the United Nations (UN) systems and other international and regional organizations.
The Mongolian side expressed its appreciation to Canada for its long – term commitment to, and continued support in its development through promoting good and inclusive governance; and assisting in better managing natural resources; ensuring gender equality and empowering of women and girls; and helping to build merit-based, citizen-centered public service sector in Mongolia. The future development cooperation of the two countries will be aligned with Mongolia's Vision 2050 and Canada's Feminist International Assistance Policy.
Following the Roundtable, the two sides announced the "Mongolia – Canada Roadmap for Comprehensive Partnership" with an aim to bring the cooperation to the level of "Comprehensive Partnership". The key sectors of bilateral cooperation including political, trade and economic, and development areas, have been prioritized in the Road Map with their action items to be carried out.
Both sides are committed to work to enhancing bilateral cooperation as well as promoting collaboration within the UN and other international and regional organizations on issues such as regional stability, human rights, climate change, gender equality, and peacekeeping.
The two countries agreed to further encourage bilateral trade and cooperate on improving Mongolia's investment environment and promote transparency, protect intellectual property rights, and prevent corruption in matters related to international trade and investment.
The Canadian side will continue to cooperate to support Mongolia's progress in meeting the UN Sustainable Development Goals and achieving tangible results through Canada's international assistance program with a focus on inclusive governance, gender equality, economic development and environmental sustainability.
Mongolia has invited the Canadian Government delegations to the Tenth Roundtable Meeting to be held in Ulaanbaatar in 2023. Mongolia and Canada will celebrate the 50th anniversary of the establishment of diplomatic relations also in 2023.