The President of Mongolia Ukhnaa Khurelsukh addressed the General Debate of the 77th Session of the General Assembly on September 21, 2022.
In his address, President Ukhnaa Khurelsukh noted that last year, Mongolia celebrated the 60th anniversary of Mongolia's full pledged membership to the United Nations, and this year, it is observing the 30th anniversary of Mongolia's declaration of its territory as a nuclear-weapon-free zone and the 20th anniversary of Mongolia's participation in the United Nations Peacekeeping Operations. He also noted that over the past six decades, Mongolia has been a responsible member of the United Nations, actively participating in multilateral cooperation of the international community and making tangible contribution to global peace and security, as well as wellbeing and development of mankind.
President Ukhnaa Khurelsukh further briefed on policies and measures undertaken by Mongolia towards intensifying the post Covid-19 pandemic social and economic recovery, achieving the Sustainable Development Goals, and tackling challenges facing the global community, such as poverty, inequality, climate change and desertification. In this context, he informed that Mongolia is preparing to host the 17th Conference of State Parties to the United Nations Convention to Combat Desertification in 2026.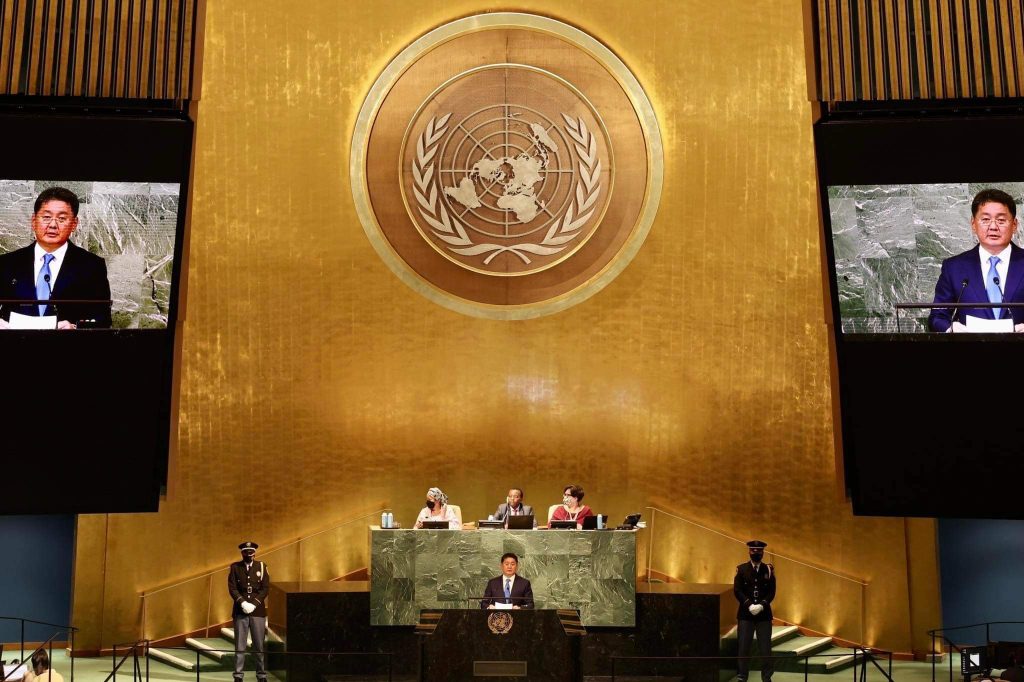 The President emphasized that even in the difficult times, when the countries of the world were closing their borders, imposing restrictions and quarantines to protect lives and health of their citizens from the COVID-19 pandemic, and running into economic crises, the world military expenditure continued to grow in 2021, reaching USD 2.1 trillion, and called upon the Member States to dedicate this budget to the least developed and developing countries to lift many millions out of poverty, free from hunger and disease, educate and create jobs.
President Ukhnaa Khurelsukh stressed that Mongolia has put forward an initiative to host an international conference on "Strengthening the Role of Women in Peacekeeping" in every 5 years as well as to establish a regional humanitarian hub or warehouse based on the Ulaanbaatar International Airport affiliated facilities with a view to contribute to the creation of an integrated regional infrastructure for disaster risk reduction and humanitarian assistance is becoming one of the most pressing security issues in Northeast Asia.
Please access the recording and transcript of the statement here:
https://estatements.unmeetings.org/estatements/10.0010/20220921/bDX8TdCTVopq/RjcfFgcF2oEv_en.pdf
https://media.un.org/en/asset/k10/k10y7lkss9