The President of Mongolia Ukhnaa Khurelsukh met on September 20 with Professor Jeffrey D. Sachs, Director of the Center for Sustainable Development at Columbia University.
President U.Khurelsukh and Professor J. Sachs exchanged views on the impacts of the pandemic over the past two years, especially on the economies of developing countries, ways to overcome them, and intensification of the implementation of the 2030 Agenda for Sustainable Development both at the national and international levels.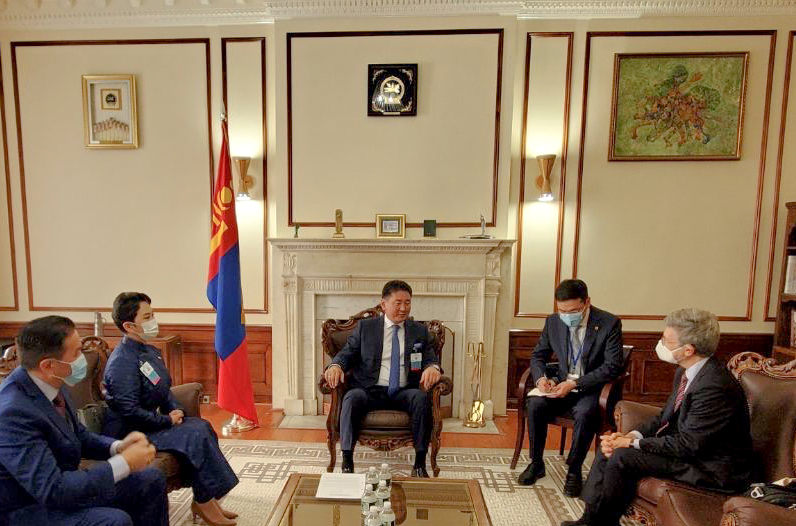 During the meeting, President U. Khurelsukh invited Professor J. Sachs to visit Mongolia to deliver lectures to scholars, experts and policy makers on economic and sustainable development solutions, the special needs of landlocked developing countries and regional and international cooperation. Professor Sachs expressed that he accepts the invitation with gratitude.
Professor Sachs noted that he views Mongolia as a country with two large neighbors, a vast territory, abundant natural resources and sources of solar and wind energy, and a great potential for economic development, and stressed that promoting information technology development and their use will become the main driving force for the future development.
Professor Jeffrey D. Sachs is a global leader in development economics and sustainable development, who was ranked among the three most influential living economists by the Economist and twice named among Time magazine's 100 most influential world leaders. He works closely with the United Nations and served as Special Adviser to UN Secretary-General Kofi Annan (2001-2007), Ban Ki-moon (2008-2016) and Antonio Guterres (2017-2018) from 2001 to 2018.
Currently Professor Sachs serves as the UN Secretary-General's Special Representative for Sustainable Development Goals, and he also leads many research and development projects and programs as the President of the UN Sustainable Development Solutions Network and a commissioner of the UN Broadband Commission for Development.